About Family Dermatology, p.c.
Family Dermatology p.c. is a private dermatology practice located in Concord, Massachusetts. The practice is under the direction of Dr. Ira Skolnik, MD, PhD. Our goal is to provide excellent care in a friendly and compassionate environment.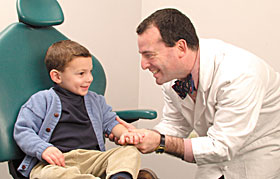 Dr. Skolnik welcomes patients of all ages to his Dermatology practice, from newborns to seniors. He is one of only two "triple Boarded" Dermatologists in Massachusetts who is not only Board Certified in Dermatology, but also in Pediatric Dermatology and in General Pediatrics.
Family Dermatology p.c. does not employ "physician extenders" (such as Nurse Practitioners or Physician Assistants). All medical care is performed exclusively by Dr. Skolnik, including the initial evaluation, treatment and follow-up.
We look forward to having you and your family under Family Dermatology's care for years to come!