Office Policies
Appointments
Family Dermatology is open Monday through Thursday from 8 a.m. to 5 p.m. and on Fridays from 8:00 a.m. to 12:00 noon. The office is closed for lunch between the hours of 12:00 p.m. and 1:00pm every day.
To schedule an appointment, please call 978-369-7701.
First-time patients need to register. We recommend you download all four patient forms. These are easily obtained from our website under the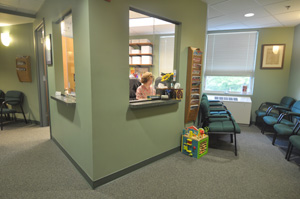 Patient Forms link. Having these forms filled out in advance will save you time during your first office visit. Your cooperation in providing the requested data on the new patient forms is appreciated. All of your records will be treated confidentially.
We make every effort to see you at your appointment time, and we appreciate you arriving on time as well. Please keep in mind that emergencies, complicated patient visits and surgical procedures may result in delays. The same additional time courtesy is extended to you, if your visit should require more time.
To cancel or reschedule appointments, please give us one business day's notice if possible. We reserve the right to charge for appointments that are missed or cancelled with less than one business day's notice.
Referrals
Patients are responsible for obtaining referrals from HMO primary care physicians prior to visiting our office. If a referral has not been authorized, you will be asked to pay for your visit at the time of service.
Insurance
Family Dermatology p.c. participates in most managed care plans. We will submit claims to your insurance company at the end of your visit. However, your insurance is a contract between you and your insurer. All insurance co-payments, deductibles and payments for non-covered services are due at the time of service, unless other arrangements are made in advance. For your convenience we accept cash, check and major credit cards (Visa, MC, American Express and Discover).
Financial Policy
Family Dermatology understands the high cost of health care and health insurance, and we want you to receive the benefits and services from your insurance that you are entitled to. We ask all patients to read and sign our Financial Policy which can be found under Patient Forms or by clicking here.
Prescription Refills
For prescription refills, please have your pharmacy call or fax us the request. If you have changed pharmacies, please let us know where you would like your prescription filled. This allows us to update your record with the current information. Please allow up to three business days for your refill request to be processed.
Privacy
Click here to view or download a copy of Family Dermatology's
Notice of Privacy Practices.
Emergencies
We reserve a few appointments each day for emergencies. In case of an emergency after business hours and on weekends, Dr. Skolnik or Dr. Franks may be reached through the telephone answering service, by calling 978-369-7701 and following the instructions.
Please call our office with any questions you may have. We always appreciate hearing from patients!